Introducing SapphirePRO
SapphirePRO is a regular contribution Trust plan, with contribution commitment terms between 5 years and 30 years, and a regular contribution amount starting from as low as SGD 500 a month.
This plan also offers flexible contribution frequencies and a range of investment options to accommodate a wide spectrum of investment risk appetite. SapphirePRO is developed for individuals who are looking to build up their wealth over a period of time by putting aside small amounts of money on a regular basis; while retaining their investment decisions on investment opportunities and enjoying the benefits and protections under a Trust structure.
Extra Allocation
Added value to your plan with extra allocation on your contribution* in the form of additional units to your assets.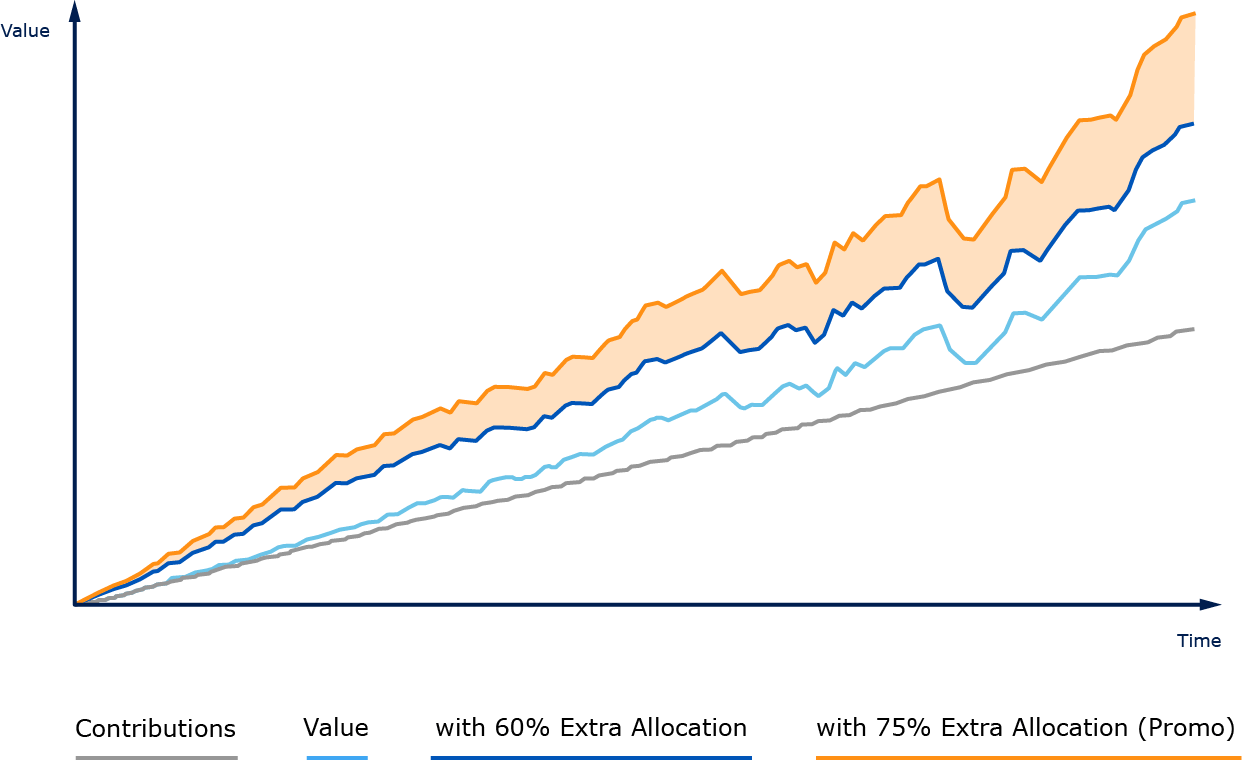 Extra Allocation (Promo)
Apply now and enjoy up to 75% extra allocation on your contributions for a limited period.
Example: Assuming that you contribute SGD 18,000 on a yearly basis, we will allocate an additional SGD 13,500 worth of units to your Trust plan.
* The above is for illustration purposes only. Applicable fees and charges under the terms and conditions of the Trust plan have been taken into consideration.
Assignment of Insurance Policies
Assign up to 3 insurance policies into your Trust plan at no additional charges.
*Subject to the terms and conditions set out in the insurer's policy and the approval of Metis SG
Loyalty Bonus
Awarding you with a Loyalty Bonus* equivalent to 1% of your net contribution on the 10th plan anniversary and on every 5th plan anniversary thereafter.
*Terms and conditions apply
Access The World's Reputable Fund Managers
Invest in renowned global fund managers with proven strategies and track records.

The above trademarks belong to the respective owners and such trademarks are to be used with the permission of their owners; of which we have obtained.
You may refer to the International Asset Selection available on our website for a list of funds that you (as the settlor) can instruct Metis SG (as your trustee) to invest into as existing arrangements have been set up to support such investment instructions. The document is by no means exhaustive and you can choose to invest in a fund that is not presently included in this list, provided that Metis SG is able to support your trade from an operational perspective.
Eligibility and Options
Single settlor
or up to 2 settlors
Minimum contribution starting from as low as SGD 500 a month with flexible contribution frequencies available
Plan term starts
from 5 - 30 years
with withdrawal flexibility
Unique online platform
to manage your plan
anytime and anywhere
Need Some Advice?
Send us an enquiry and we will engage a qualified financial adviser to get in touch with you.
Enquire Today